Life As It Is
Basically, well, just... trying to survive. I've grown a lot as a person since this page was both created and even last updated. I've dealt with the loss and betrayal of multiple friends, dealt with the love/hate relationship with my mom, found out what it's like first hand to be in love, found out what it's like first hand to reject someone else when you're already with someone, moved to a new house, got a new haircut, wrote more (and almost finished) my fanfiction.

Below picture is a little self portrait of me. I actually have pants like that, and the reason why the fly is undone is because that is what they're like. The fly is busted, but they're such cool pants that I wear them around the house. (I call them my 'Tidus pants.'

Once again, I drew this picture, but it was coloured by my friend.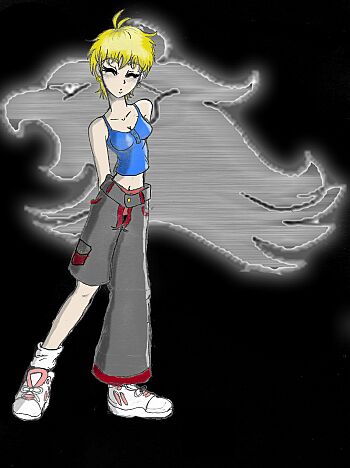 Even the greatest of whales is helpless in the desert. - Me